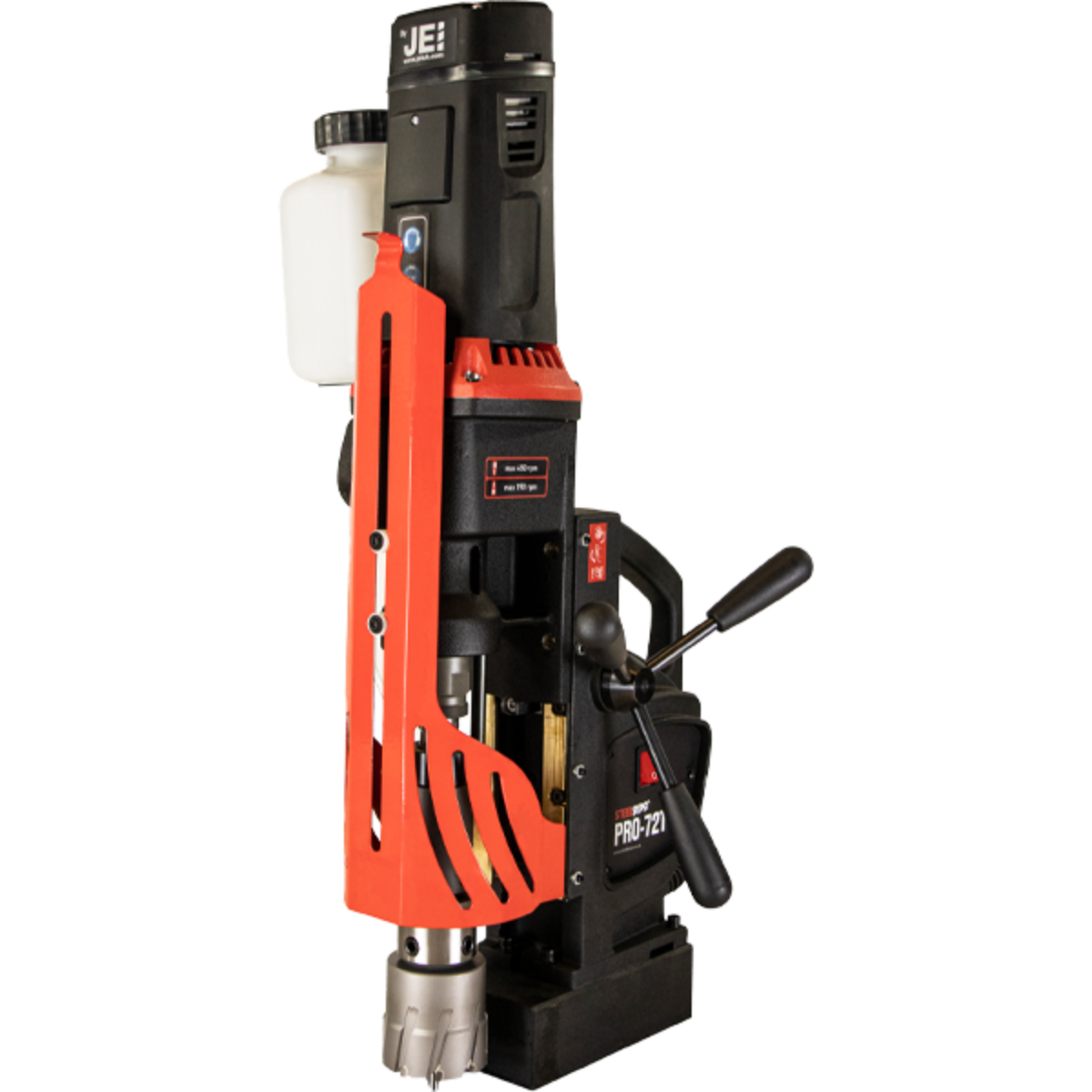 Magbeast Premium PRO-72T
---
---
VERSATILE DRILLING & TAPPING MACHINE
The PRO-72T drilling machine is suitable for hole cutting and tapping applications. Powerful 1600 W variable speed motor enables milling capacity up to 70mm (2-3/4") and drilling capacity up to 25 mm (1").
1600 W powerful motor with heavy duty 2-speed gearbox

Intelligent speed control system maintains stable speed

Tapping of through and blind holes

Drilling with TCT or HSS cutters or use with twist drills up to 25mm dia

Electronic speed control

Electronic clutch

Both overload and overheat protection

Rigid design extends tool life

Tilt sensor stops the motor in cases of machine's break away

360-degree visual monitoring system

Innovative smart magnet with reduced weight

Intuitive control panel at top of the drill

Large coolant container
Available for hire!
---
---
Powerful variable speed motor enables cutter capacity up to 70mm (2-3/4") and twist drill capacity up to 25 mm (1"). Machine's forward & reverse work modes allow thread cutting up to M20 with our new tapping system. Two speed gearbox with continuous speed adjustment allows to set the optimal speed depending on diameter, steel grade or tool type.
Why the Magbeast Premium PRO-72T?
---
Magbeast Premium PRO-72TSPECIFICATIONS
---
Motor Speeds (under load)
(1) 120-190 rpm
(2) 290-450 rpm
Motor Power
1600 W
Weight
18 kg (40 lbs)
Max cutter capacity
70 mm (2-3/4")
Max twist drill capacity
25 mm (1")
Max tapping size
M20 (3/4")
Stroke
190 mm (7-1/2")
Max depth of cut
75 mm (3")
Voltage/ Part Number
110-120 V, 50-60 Hz / DRILL-PRO72T/1
220-240 V, 50-60 Hz / DRILL-PRO72T/2
Magnetic clamping force
1122 kgf (11,000 N)
Magnet Base Dimensions
92 mm x 180 mm x 54 mm 3-5/8" x 7" x 2-1/8"
Min, Workpiece Thickness
8 mm (5/16)
Spindle
MT3
Tool holder
19 mm (3/4") Weldon
Want to make sure the Magbeast Premium PRO-72T is right for you? Speak to our specialist solutions team today.