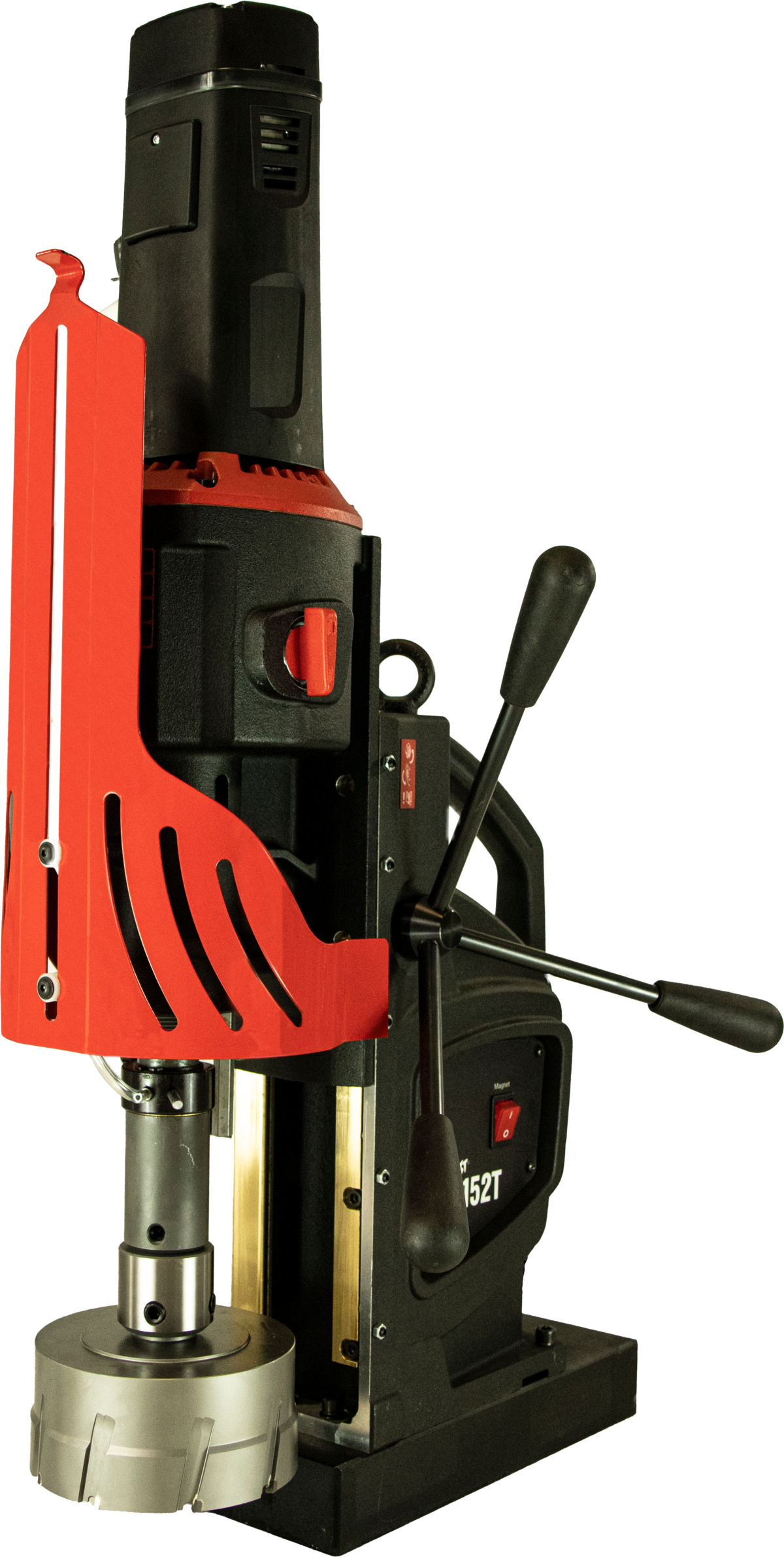 PRO-152T
---
---
HEAVY DUTY TAPPING AND DRILLING MACHINE
The PRO-152T drilling machine is designed for large hole making and very big tapping applications. Powerful 2300 W variable speed motor enables milling capacity up to 150 mm (6") and drilling capacity up to 47 mm (1-7/8").
2300 W powerful motor with heavy dut y 4-speed gearbox

Intelligent speed control system maintains stable speed

Tapping of through and blind holes

Milling with TCT or HSS cutters or drilling

Electronic speed control

Electronic clutch

Rigid design ex tends tool life

Tilt sensor stops the motor in cases of machines break away

360 degree visual monitoring system

Innovative smart magnet with reduced weight

Intuitive control panel at top of the drill

Large coolant container
---
---
Four speed gearbox with continuous speed adjustment allows to set the optimal speed depending on diameter, steel grade or tool quality. Intelligent speed control system maintains constant motor speed regardless of changing loads. Innovative 360-degree LED indicator facilitates proper machine operation and increases work safety.
PRO-152TSPECIFICATIONS
---
Motor Speeds (under load)
55-85 rpm (gear 1) / 100-150 rpm (gear 2) /
200-300 (gear 3) / 350-520 rpm (gear 4)
Motor Power
2300 W
Weight
31 kg (68 lbs)
Max milling capacity
150 mm (6")*
Max drilling capacity
47 mm (1-7/8")
Max Tap size
M42 (1-5/8")
Stroke
260 mm (10")
Max depth of cut
100 mm (4")
Voltage
1~ 220-240 V, 50-60 Hz / 1~ 110-120 V, 50-60 Hz
Magnetic clamping force
2550 kG (25,000 N)
Magnetic Base Dimensions
105 mm x 315 mm x 50 mm | 4-1/8" 12-3/8" x 2"
Min. Workpiece Thickness
10 mm (3/8")
Spindle
MT4
Tool holder
19 mm (3/4") or 32 mm (1-1/4") Weldon