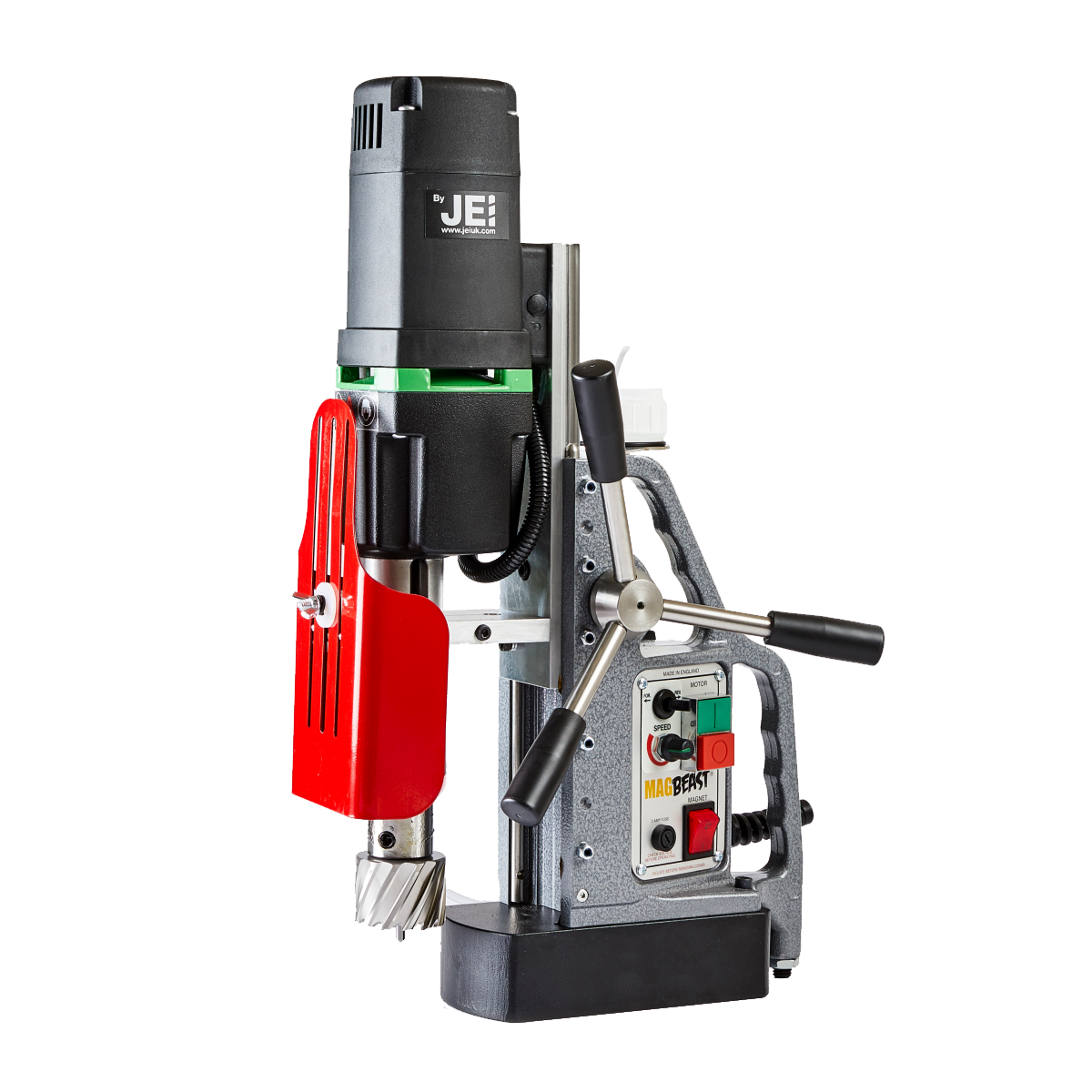 MagBeast® HM50T
Featuring variable speed and reverse function.
Variable speed, high torque motor. Ideal for countersinking and reaming.

Reverse speed motor ideal for threading (tapping) holes.

Lightweight. Only 13 kg yet can cut up to 50 mm diameter.

Maintenance friendly twin slide rails.

No wearing parts and adjustment free operation.
---
---
A heavy-duty 2 morse taper drilling machine, the HM50T is ideal for countersinking and reaming. A lightweight option, weighing at only 13kg, that can cut up to 50mm in diameter.
MagBeast® HM50TSPECIFICATIONS
---
| | |
| --- | --- |
| Model | HM50T |
| Spindle | MT2 |
| Weight | 13 kg |
| Max Stroke | 150 mm |
| Cutter Capacity | 50 mm Ø x 4" depth of cut |
| Twist Drill Capacity | 13 mm with 2MT Chuck ~ 23 mm with 2MT Twist Drill |
| Countersink Capacity | 40 mm |
| Tapping Capacity | M20 |
| Reaming Capacity | 22 mm (19 mm shank) |
| Motor | 1150 W (110 V) 1250 W (240 V) |
| RPM | 2 Variable Speeds, 180–430, 100–250 RPM |
| Swivel Base | n/a |
| Height min/max | 410 / 560 mm |
| Length x Width | 280 x 120 mm |
| Magnetic Base L x W | 85 x 180 mm |
| Magnet Deadlift | 1250 kg on 1" Plate (12000 N) |
| Noise Level | < 90dB |
| Vibration Level | < 2.5 m/s2 |
| Voltage/ Part no | 110 V – DRILL-HM50T ~ 240 V – DRILL-HM50T/2 |
| Shipping Weight | 19 kg |
| Shipping Dimensions | 490 x 380 x 200 mm |